[Sustainable Future] Firms learn that doing well means doing good
The term "sustainable" has meant very different things to Korea. After the 1950-1953 Korean War, sustainability meant nothing less than staying alive. In the industrialization period of the 1960s-1980s, the Miracle on the Han River was sustained through investment in strategic industries and hard work - at the cost of democratic freedoms. After the 1997 Asian economic crisis, Korea learned that its economy was not just a giant job machine. It had to create and sustain modern companies that worked not only for customers but also for shareholders and workers.
In the 21st century, companies are supposed to share their customers' concerns with the environment and our shared futures - and do nothing to endanger them. To celebrate its 19th anniversary, the Korea JoongAng Daily will spend the next two weeks exploring the ways corporations and cities are taking on the mantle of responsibility for the environment and society in this special anniversary series, "Sustainable Future."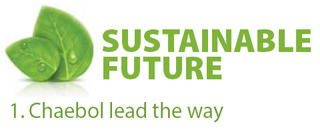 Succeeding in business used to be all about the product. Find something in demand. Make it cheaper than the next guy. Make sure it's good - which in the old days meant "good enough."
These days, that formula is nowhere near good enough for a company. Aside from its products, the company itself has to be good: good for the environment, good for society, good for the customer's own personal image.
For the millennial generation, every detail about companies' business practices is shared online. They can look up a product's impact on the environment and society and hold companies accountable.
So companies are trying to be "good" not just out of conscience - but for their own survival.
"Consumers don't buy products just because they are cheap and good," Chey Tae-won, chairman of Korea's third-largest conglomerate SK Group, said during a forum held with University of Chicago alumni last year. "It has become very difficult to separate social value from economic value."
During a meeting with his executives in July, Shin Dong-bin, chairman of Lotte Group, emphasized, "It is important that we are recognized as a company doing good deeds by customers, employees, suppliers as well as our communities." Companies can no longer expect stable growth, said the leader of the country's fifth-largest conglomerate, just by owning big, popular brands.
Consumers and investors alike now care about a company's sustainability, assessed through what has come to be known as the environmental, social and governance (ESG) criteria.
Environmental criteria consider a company's impact on nature. Social criteria examine a company's relationships with employees, suppliers and local communities. Governance deals with a company's leadership, transparent accounts and shareholder rights.
According to the May-June issue of the Harvard Business Review, 70 senior executives from 43 global institutional investing firms said ESG was a top priority in current investment decisions.
Among the investing firms interviewed were the world's three biggest asset managers - BlackRock, Vanguard and State Street - as well as state pension funds of Japan, Sweden and the Netherlands.
In a survey of 1,000 high-net-worth investors by the Bank of America private wealth management unit last year, 80 percent said they expect companies to make profit but also take responsibility for their impact on the environment and society.
"The concept of sustainability or social value is still quite vague, but corporate culture is definitely changing," said Lee Eun-kyung, a senior researcher at UN Global Compact Network Korea, the local branch of a global corporate sustainability campaign involving some 14,000 companies and institutions. "In the past, corporate social responsibility [CSR] activities were taken care of by separate CSR teams, but these days a lot of companies give CSR work to their strategy planning offices as the work is increasingly becoming part of their business competitiveness."
What is sustainability?
While sustainability at its simplest means being able to continue over a period of time, it is used in the business world to signify meeting the needs of the present without negatively impacting future generations.
So if a company harms the environment, forces employees to overwork or takes bribes for short-term benefits, those are not sustainable business practices.
There is not yet a single way to assess or measure a firm's level of sustainability. But international investors are using ESG criteria for basic assessments of whether companies are adopting sustainable and responsible business practices.
The United Nations has spelled out Sustainable Development Goals, which are supposed to be the blueprint to achieving a sustainable future for all. Their 17 broad goals address global challenges including poverty, inequality and climate change. UN member countries have agreed to make progress in all goals by 2030.
Some companies have their own concepts of sustainability.
SK Group calls its improvements on ESG indices "social value" and developed its own way of measuring it, though the company said it is still upgrading the method.
From May, the group started quantifying the amount of social value major SK affiliates created. The social value was measured in won terms in three categories: social contributions, economic contributions and business performance.
During a briefing in May, the group even admitted affiliates like battery maker SK Innovation and chipmaker SK Hynix generated negative amounts of social value in the business performance category, which measures the impact of a company's operations, production and sales on the environment and society, largely due to waste and pollution produced in their manufacturing processes.
SK Innovation generated minus 1.19 trillion won ($1 billion) in social value and SK Hynix minus 456.3 billion won.
"The reason SK is measuring social value is because we need indicators and reference points," said Lee Hyung-hee, head of the social value committee run by SK's decision-making body SK Supex Council.
Lee said the group will keep improving the social value generated.
The group is taking part in the Value Balancing Alliance, which aims to create a standardized model for measuring and disclosing the environmental, human, social and financial value companies create. The alliance was founded in August by eight international companies including BASF, Bosch, Deutsche Bank, Novartis and SK.
Steelmaker Posco calls itself a "corporate citizen," which essentially means it is dedicated to being a socially responsible company. It has not revealed its method of measuring ESG, but its chairman Choi Jeong-woo recently met with SK's Chey and agreed to discuss collaborating on measuring and disclosing sustainability-related values.
Under different names, companies are trying to show they are making the world a better place through sustainability campaigns.
Going green
In an effort to abide by tightening environmental regulations, companies are changing their business portfolios, upgrading or overhauling facilities to reduce pollution and finding creative ways to reuse the waste they produce.
Automakers, for instance, are shifting their car portfolios from gasoline and diesel models to electric and hydrogen fuel-cell cars to reduce their overall carbon footprint.
According to a sustainability report published by Hyundai Motor Group in July, the group plans to offer 44 different eco-friendly car models including hybrid, electric and hydrogen fuel-cell cars and sell 1.67 million units of those models in 2025. Hyundai Motor will be introducing 26 models and Kia Motors 18 models.
Aside from engines, the group developed a so-called solar roof last year. The system can charge car batteries using solar panels attached to the roof. The first Hyundai car to come installed with the system was the hybrid version of the Sonata sedan released in July. According to the automaker, the latest Sonata hybrid can drive roughly 1,300 kilometers (807.8 miles) per year with power produced from the solar roof. It said it will keep upgrading the technology to put solar roofs on gasoline and diesel cars as well in the future.
The Korean carmaker also made an attempt to reduce waste by upcycling leather left over from making car seats. Last month, the carmaker showed a 15-piece line of upcycled clothes developed in partnership with seat maker Hyundai Transys and U.S. fashion brand Zero + Maria Cornejo in New York City.
Hyundai Motor had said in a statement August that the "event will present a vision for the creative reuse of automotive materials for fashion and connect with people who care deeply about the environment and seek more ethical consumption."
The company is preparing its second round of fashion upcycling for China Fashion Week, which kicks off next week. It is collaborating with Chinese eco-friendly fashion brand Reclothing Bank for the project.
Manufacturers are also investing in making their production processes greener.
Steelmaker Posco announced in February that it will invest a total of 1.07 trillion won over the next three years to cut emissions from steel mills by 35 percent. The move was timely as fine dust becomes a serious problem in Korea.
Under the plan, the steelmaker will first replace or reform old by-product plants to reduce emissions of pollutants including nitrogen oxide and sulfur oxide. Those two compounds are known to make up 65 percent of fine dust. By-product plants help steelmakers reuse by-product gases from coke ovens, blast furnaces and basic oxygen furnaces to save energy resources.
Change is happening in a range of industries. Korean cafes are discontinuing plastic takeout cups, and retail companies and delivery companies are reducing the use of plastics and paper in their packaging to save resources and cut down on waste.
Growing together with society
Instead of just donating money or food or encouraging volunteering, companies are increasingly focusing on contributing to the local community in ways that use its existing infrastructure.
One of early projects of SK Group was to open up idle space at thousands of gas stations operated by SK Energy for the local community to make use of. After SK, GS Caltex followed suit.
As a result, some gas stations are being used as logistics hubs by parcel delivery start-up Zoomma to offer a service dubbed Homepick. Zoomma staff collect parcels from homes located within a 3-kilometer radius of each gas station and store them in the office until Hanjin Global Logistics picks them up.
Currently, Homepick offices are in some 450 gas stations run by SK Energy and GS Caltex. Oil refiners are offering the space at their gas stations for small fees.
"It's a win-win for both the logistics companies and gas station operators," said an SK Energy spokesperson. "Gas station operators earn on average 2.5 million to 3 million won a month in profit, which is not much. Renting out idle space will help them earn about one-third of that in extra income."
For the delivery companies, they get logistics hubs in busy city areas at an affordable price.
In December, SK Energy and GS Caltex gas stations jointly launched QBoo, a gas station-based storage service, in partnership with local start-ups that offer services like washing clothes on demand and trading used goods.
Local battery maker LG Chem is trying to make its supply chain more socially responsible by using blockchain technology.
LG Chem, Ford Motor Company, Huayou Cobalt, IBM and RCS Global announced early this year that they will use blockchain technology to trace and validate ethically-sourced minerals.
The companies have begun a pilot project focused on cobalt supplies to create an open, industry-wide blockchain platform that could ultimately be used to trace and validate a range of minerals used in consumer products. Cobalt, a key material for electric car batteries, is mainly produced in the Democratic Republic of the Congo. Exploiting children and environmental damage during cobalt mining have been cited as major ethical problems.
According to a statement from IBM, an immutable audit trail will be created on the blockchain so that parties in the supply chain can source minerals from miners that meet ethical standards.
Improving corporate governance
Governance is an area Korea is relatively weak in, partly because of the chaebol-based economy.
However, after the country ousted former President Park Geun-hye for bribery and power abuse in 2017, the public has become more sensitive to transparency in politics and corporate governance.
Employees started whistle-blowing about power abuse or unfair corporate culture through social networks and anonymous online forums. The public started expecting more responsible and transparent management from companies.
The Cho family, which controls the country's largest airline, Korean Air, suffered a string of scandals over bad behavior and employee abuse. The scandals led to former chairman Cho Yang-ho losing his position as a Korean Air director during last March's shareholders meeting. It was the first time a chaebol head had been ousted by shareholders.
The airline has been trying to enhance its corporate governance this year. The airline's de facto holding company, Hanjin Kal, decided to increase the number of outside directors on its board and add an auditing committee to oversee internal accounting.
Kolmar Korea Chairman Yoon Dong-han resigned in August after facing a backlash for making hundreds of employees watch a YouTube video criticizing the government's stance against Japan, which is involved in diplomatic and trade conflict with Korea.
Kolmar is a beauty and skin care product manufacturer that supplies to big cosmetics companies like Amorepacific, Missha, and AHC.
The 71-year-old chairman came under fire for playing a rightist YouTube video during a monthly staff assembly attended by some 700 employees. The video included swear words and sarcastic comments against the government and the boycott movement against Japanese products.
Comments in the video that were particularly outrageous included praise for Japanese Prime Minister Shinzo Abe as a "great leader for not punching Moon Jae-in in the face."
The incident was made public after an employee uploaded a post on an anonymous online forum, and the chairman decided to resign less than a week later.
"Companies are paying extra attention to what's being talked about on the internet," said Lee Eun-hee, a professor of consumer science at Inha University. "People tend to think that negative parts of the corporate culture like power abuse are ultimately reflected in the products and services offered by the company."
Lee added that consumers should be careful about starting protest against companies.
"The internet spreads the news and often makes the news bigger [than it is,]" Lee added. "We need to think of a fine line between expressing our concerns and [interfering] with companies' business."
Rosy dream vs. reality
It seems as if all companies are trying to save the Earth and make their businesses more sustainable. In reality, not many companies can afford such actions beyond the major conglomerates.
"It's a dilemma the companies face," Lee from Inha University said. "They need to make profits to survive and contribute to society, but at the same time, consumers are demanding more and more from them."
"I think cases like SK Group is quite unique," said Lee from UN Global Compact Network Korea. "It's hard for other companies to take a big stride like SK, and right now, there is not even a clear consensus on what is social value."
Even for SK, focusing on social value is a challenge.
"Creating social value has become the mission for all of our business teams, not only the corporate social responsibility team, and employees are still adjusting to the changes. Of course, there are struggles as we are in the early stages," said Jung Hyun-chun, head of social value planning and coordination at SK Supex Council. "I think it really depends on our point of view, whether we consider investment into creating social value as a cost, or a chance to come up with new business opportunities."
Companies often face difficulties in pursuing their own sustainability projects due to tightening government regulations.
For instance, as environment conservation has become a big issue globally, the government has been adding some 30 new regulations related to environment protection per year on average, and this has become a burden on companies.
According to a survey of 100 Korean manufacturers by the Korea International Trade Association (KITA), 68 percent of respondents said they cannot understand or comply with every new regulation, while 65 percent said they face heavy costs if they abide by the regulations. Half of the respondents said they are not given enough time to respond to new regulations. Multiple answers were allowed.
"Some companies are receiving penalties even though they did not intentionally create environmental accidents," the report said.
A spokesperson from KITA said the government should discuss with companies before crafting regulations.
"Overall, it's a positive change to have a more consumer-oriented market," professor Lee said. "In the end, those capable of handling costs while meeting the increased demands of customers [will survive.]"
BY KIM JEE-HEE [kim.jeehee@joongang.co.kr]