KBO stars look for major league positions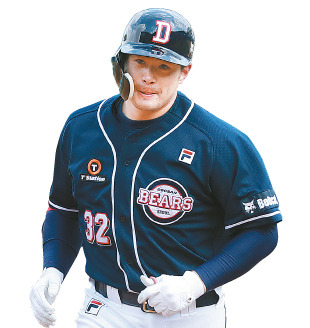 Kim Jae-hwan
After slugging his way around Korean baseball for years, MVP-winning outfielder Kim Jae-hwan now wants to see how he stacks up against big league pitching.
The Doosan Bears announced Thursday they have asked the KBO to post Kim for MLB teams, making the 31-year-old slugger available for any interested clubs.
Once the administrative work is done, Kim, the 2018 regular season MVP, will be the second KBO player to be posted this offseason, joining SK Wyverns' left-hander Kim Kwang-hyun.
The deadline to post a player fell on Thursday, giving Kim's camp one day to prepare the player's medical documents and other paperwork.
The Bears said Kim had told the team about his desire to play in the MLB after the conclusion of the World Baseball Softball Confederation (WBSC) Premier12 tournament in November. The Bears said they met with Kim's agent a few times before deciding to grant the player's wish.
Under the posting system, any interested MLB team will be able to negotiate with Kim during a 30-day negotiating period, which will begin at 8 a.m. on Thursday in U.S. Eastern Time (ET), after the MLB officially notifies its 30 clubs of Kim's availability. The window will close at 5 p.m. ET on the 30th day.
"I don't know which teams will show interest in me or how I am going to be evaluated, but I am just thankful for this opportunity," Kim said in a statement released by the Bears. "Every baseball player dreams of reaching the majors. I'd like to thank the Bears for allowing me to take on this challenge."
Kim's decision comes as a surprise, given that he had a down year offensively in 2019.
Kim batted .283/.362/.434, with 15 home runs and 91 RBIs. They pale in comparison to stats during his MVP season in 2018, when he slashed .334/.405/.657 with 44 home runs and 133 RBIs, both best in the KBO.
Three Korean players have signed major league deals via posting - pitcher Ryu Hyun-jin (Los Angeles Dodgers) in 2012, infielder Kang Jung-ho (Pittsburgh Pirates) in 2015 and infielder Park Byung-ho (Minnesota Twins) in 2015.
Kim's Seoul-based agency, Sportizen, said the player will be represented in the U.S. by Creative Artists Agency (CAA) Sports. The Los Angeles-based firm boasts two-time reigning National League (NL) Cy Young Award winner Jacob deGrom and former NL MVP Buster Posey as its clients.
CAA also helped Japanese two-way sensation Shohei Ohtani sign with the Los Angeles Angels through posting before the 2018 season.
Sportizen said CAA Sports first took interest in Kim in 2016, and the U.S. agency has compiled a scouting report on Kim to send to major league clubs.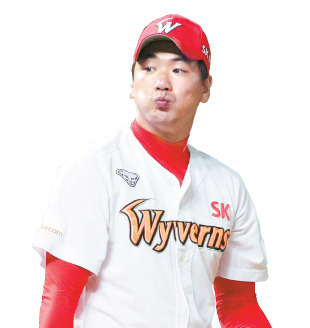 Kim Kwang-hyun
The waiting game is under way for Korean left-hander Kim Kwang-hyun, who should be posted by the MLB for its 30 clubs in the coming days.
Once that administrative step is taken, any interested teams will be free to negotiate with the 31-year-old pitcher for 30 days.
And if he does get a deal done, Kim said he'll take the mound with a sense of urgency every time.
"I'll pitch every game like it's a Korean Series game," Kim told reporters Wednesday after a baseball awards ceremony in Seoul, referring to the championship series in the KBO.
"It's always been my dream to pitch in the majors," Kim went on. "I'll try to make sure I won't have regrets, if I do get there."
Kim has been one of the best starters in the KBO for over a decade, and he enjoyed a fine 2019 season, in which he went 17-5 with a 2.51 ERA for the SK Wyverns. He ranked in the top three in both wins and ERA, and received the Best Pitcher trophy in Wednesday's ceremony.
"Before this season, my goal was to stay healthy and not miss a turn in the rotation," Kim said. "I was able to accomplish that, and hopefully I'll do even better next year."
Kim said he has looked up to Ryu Hyun-jin, a fellow Korean left-hander who has been pitching for the Los Angeles Dodgers since 2013. Ryu, who's now a free agent, finished runner-up in the National League Cy Young voting this year.
"Hyun-jin is my role model," Kim said of the 32-year-old veteran. "He's inspired me to dream big. It'd be great to be on the same team with him, or at least be in the same league. I'll try to pick his brains."
Kim was posted after the 2014 season, but his negotiations with the San Diego Padres fell through, forcing Kim to stay put with the Wyverns.
Kim still had one more year left in his four-year deal with the Wyverns, but the KBO club granted Kim's wish to take a crack at reaching the big leagues.
Kim said he has recently hired a U.S.-based agent and added, "There's not much I can do at this point. I just have to wait and see if there will be any offers."
Kim said he'd like to land with a team that will give him as many opportunities to pitch in the big leagues as possible, adding, "It won't mean anything if I stay in the minor leagues."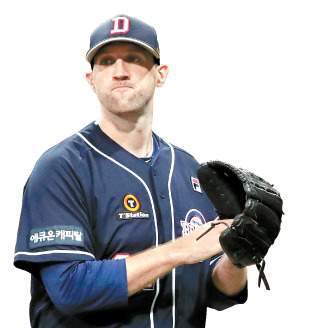 Josh Lindblom
The Doosan Bears announced Wednesday they've parted ways with their MVP-winning ace Josh Lindblom, allowing the American right-hander to pursue a return to the majors.
The KBO club said they'd hoped to re-sign Lindblom for his third season with the club but ultimately decided to relinquish their reserve rights on the pitcher so he could sign elsewhere with no restrictions.
If the Bears had chosen to retain their rights on Lindblom, he wouldn't have been able to sign with another KBO club for five years without the Bears' consent under the KBO's reserve clause.
Lindblom, 32, was voted the 2019 regular season MVP last month after going 20-3 with a 2.50 ERA. The Bears said Lindblom attracted "significant interests" from MLB clubs in the United States and Nippon Professional Baseball (NPB) in Japan after the 2019 season. They added that they decided to free Lindblom out of respect to his contribution to the team over the past two years.
In 2019, Lindblom was the KBO's only 20-game winner, and he also led the league in strikeouts (189) and innings pitched (194 and two thirds).
He finished second in ERA to come one category shy of winning the pitching Triple Crown. Lindblom was the Game 1 starter of the Korean Series in October, as the Bears swept the Kiwoom Heroes for their third championship in five years.
In 2018, with offensive numbers across the KBO at an all-time high, Lindblom won the ERA title with 2.88. He was the only pitcher with a sub-3.00 ERA that season.
Lindblom, a native of Lafayette, Indiana, was drafted by the Houston Astros in the third round in 2005 out of high school, but chose to attend college instead of signing with them. Three years later, the Los Angeles Dodgers selected Lindblom in the second round of the draft out of Purdue University.
Lindblom made his big league debut with the Dodgers in 2011 and ended up making 110 major league appearances with four clubs before joining the KBO's Lotte Giants for the 2015 season.
He returned to the United States briefly in 2017 and pitched in four games for the Pittsburgh Pirates. He rejoined the Giants in July that year.
Lindblom then signed with the Bears in December 2017 and enjoyed a dominant two-year stretch.
Reports coming out of the United States say the Dodgers, the team that drafted Lindblom in 2008, are interested in bringing back the right-hander, with the Toronto Blue Jays also said to be in the mix.
Yonhap