B.I.G's dreams come true thanks to Arab fans: After covering a hit song in Arabic, the group gained a devoted following abroad
As K-pop becomes increasingly global, it's not uncommon to see comments left in English, Japanese or Chinese on YouTube videos or articles from fans all around the world. But boy band B.I.G started to notice that they were getting love from a different set of fans when they saw comments in Arabic all over their music videos and on social media. So they decided to reach out to those fans and thank them for their support in a unique way.
B.I.G made their debut in July 2014 as a five-member group, with members J-Hoon, Benji, Gunmin, Gook Min-pyo and Heedo. Their first single "Hello" attracted the attention of listeners for its addictive hook and its distinctly Korean vibe - the song's lyrics that showed off the best of Korea, like the "fastest internet" and "kimchi, tteokgalbi, bulgogi and samgyeopsal."
But after the group failed to catch on amid the heated K-pop music scene where more and more groups make their debut every year, the group decided to take a hiatus that ended up lasting for two years. Although members Gunmin and Heedo participated in KBS's music program "The Unit" (2017), where already-debuted K-pop groups from smaller companies fought for a chance to reboot themselves, they didn't make it to the final group, and it wasn't enough to bring them back into the spotlight like they hoped.
With J-Hoon in the military serving his two-year mandatory duty, B.I.G started anew with new member Jinseok in January. The group unexpectedly became a sensation when they sang a song in Arabic - "La Bezaaf" by The5 - during a radio show on KBS World. Video of their performance became a hit among Arab fans, and B.I.G was quick to release a music video version of the song just a week later. Since it was uploaded on Jan. 31, the video has been seen over 4 million times on YouTube, and the comments are filled with praise in Arabic.
With another cover released in March, this time "3 Daqat" by Abu, they secured their place as Arab fans' favorite K-pop boy band.
"It feels so good to have people from around the world giving us feedback online," said Heedo. "So we always take the time to read each comment during our Arabic lessons."
To pay back the love they have received from their faraway fans, B.I.G has been taking Arabic lessons in the hopes that they can communicate better with them. In October, they met with fans in Abu Dhabi, and it was there that they actually realized how many fans they had supporting them in the region. The group's latest release features the song "Illusion" recorded in both Arabic and Korean - becoming the first K-pop act to release a song in Arabic.
B.I.G recently met with the Korea JoongAng Daily and talked about how they started from a small group in the periphery of a massive industry, to finding a fan base who celebrates their passion. The following are edited excerpts from the interview.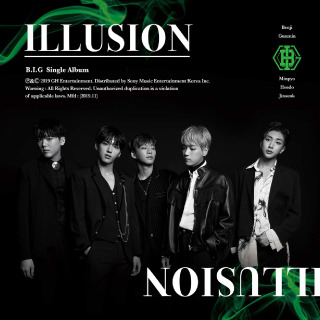 The album cover for their latest single "Illusion," which was recorded in both Korean and Arabic. [GH ENTERTAINMENT]
Q. Congratulations on your comeback. Please tell us a little more about the track "Illusion." Do you think it's come out well?

A. Gook
: We tried a lot to catch on to what's trendy in Korea and what's trendy in the Arab world. We analyzed the songs that are hot right now, and changed that to suit our voices. I think the song has the characteristics of both cultures in a good way.
Benji
: I think that's the special thing about the song. We have a lot of Arabic aspects in the song. Music transcends language, so it carries that mood in the sound. I think because we're K-pop singers who are singing in Arabic, it makes the song a bridge that connects the two cultures together.
How does it feel to be the first K-pop act to release a song in Arabic?

Gunmin
: Being the first at something is meaningful in itself, I think. We received a lot of love from our Arab fans, and so it feels good to think that we're paying them back in some way.
This is your first new music in two years. Was it hard to work on something again after a long hiatus?
Gunmin
: We did struggle in some parts, and it was actually the first time for Jinseok. I think he would have struggled, so we tried to tell him how to do the things he wouldn't have known, like shooting a music video or recording a song.
Jinseok
: I was very nervous, because it's my first album. It's my first everything. So I didn't know what was going on. But having done it makes me a little more confident, and the members were really supportive. I enjoyed it, and it's really fulfilling.
You met with fans through a concert and fan meeting in Abu Dhabi last month. How was the experience?

Benji
: I felt the difference in peoples' sense of humor. So when I told a joke, or said some things in English, I felt them understanding it faster [than Korean fans]. I said everything that I wanted to, but they reacted to everything that I said - even though it wasn't funny. I was so grateful.
Gunmin
: It was the first time for us to perform "Illusion" in concert. We prepared it just for that event.
Were there any other special experiences you had while you were there?

Heedo
: We went to the desert and shot our choreography video there. I didn't realize it would be so hard to dance on sand. But having a real desert as the backdrop made it seem almost like computer-graphics. We struggled a lot, but it's not animated! It's real!
It is nearly 2,000 days since your debut. How does it feel to look back?

Benji
: The number 2,000 is no small feat. We do wish we could have had more albums or met with fans more, and we wish we had more chances to promote ourselves and meet with fans abroad. We're happy that we were able to be together for 2,000 days, but it does bring us to think about the past - like whether the things we lacked have been filled, and how we can fill that gap.
Heedo
: I think at some point, we developed more room in our hearts for each other. We've learned that it's better to have that room rather than being sensitive and sharp, whether it's just us or in public situations. I think it has come with time.
How has this year been for you?

Jinseok
: It was my debut this year, and it was full of surprises. I was always with the members, and we have good memories. I hope next year will be the same - practicing together and hanging out together on our off days. It was a happy year so I hope it could be the same next year.
What's your ultimate goal as artists?

Benji
: It's hard to be in the history books. But will people remember me? I hope people will remember the name B.I.G and listen to our songs for many years.
Gook
: I hope we get to work on a project without any regrets - not a speck of regret. Having that, where we feel like we've really worked ourselves to the bone, will be so fulfilling. That's my goal.
BY YOON SO-YEON [yoon.soyeon@joongang.co.kr]