[TABLE TALK] Celebrating Christmas with traditions old and new
If you could recommend one book to read about your country, which would it be and why?
We are asking these questions to ambassadors in Seoul for our latest public diplomacy series, "Table Talk." The book, its author and what they say about the country is discussed over a table full of national dishes. What better way to start an exploration of a new land than through food, good writing and a personal guide dedicated to building bridges between countries — right here in Korea? - Ed.
Families across Germany take turns to light the candles on their Advent wreathes at this time of year.
"Every Sunday you light one, and by the last Sunday before Christmas, all four will be lit," said Vera Auer, wife of the German ambassador to Korea, at their residence in central Seoul on Nov. 28.
"It's a very important tradition for Germans for this time of Christmas," said Ambassador Stephan Auer.
It's especially exciting for families with young children, as the anticipation for Christmas day builds with the lighting of each candle.
"For us, it was always our youngest daughter who got to light the last candle," said Vera Auer.
And that family tradition is set to stand as the Auers get together for Christmas in Korea.
But before they begin celebrating together with hearty German dishes and the Christmas stollen specially baked and sent from home, the Auers will have to make a pit stop.
"Our two children, when they come from Germany, the first thing they have to do is to go out and have galbitang [Korean beef broth soup]," said Vera Auer. "It's become a family tradition for us."
"We have grown quite fond of that dish," said Stephan Auer. "Galbitang and kimchi really hit the spot and is perfect when you have just traveled for a while."
Traveling has become a natural part of their lives as the Auers moved from one country to another as a family of diplomats. Korea was a destination they had in mind for a while.
"We really wanted to be somewhere far from Europe," said Vera Auer, speaking of the time when their posting to Korea was decided three years ago. "We were looking for something new and I had never been to Asia before."
"I was here on a business trip before, but when we came here we were surprised because the Korean people, they were so friendly and polite ­— more than we had expected," said Stephan Auer.
The Auers told their stories of embracing cultures, peoples and ideas across the two nations around a table full of German dishes from North Rhine-Westphalia, Bavaria and northern areas of the country.
Traveling and discovering and making connections, they said, was also very much a part of the lives of some German thinkers and scientists of the past.
"Alexander von Humboldt traveled abroad a lot," said Stephan Auer. "He spent time studying in France, for instance, and traveled several times to Latin America to explore the region, to discover, safeguard and archive the flora and fauna, culture and tradition of these countries."
"Measuring the World" (2005), a novel by Daniel Kehlmann, places Humboldt in a fictional setting with German mathematician Carl Friedrich Gauss, as well as Johann Wolfgang von Goethe, Carl Sigismund Kunth and Immanuel Kant.
How the Germans measured the world then and how they may be measuring it now were just some of the questions asked during the interview with the Korea JoongAng Daily at the diplomatic residence on Nov. 28. The following are edited excerpts of the interview.
Q. How did you come to select the book, "Measuring the World" for the Table Talk interview?

A. Stephan Auer
: First of all, this book is about two scientists, Carl Friedrich Gauss and Alexander von Humboldt. Germany is normally perceived as a country of big poets and thinkers, philosophers. What I wanted to say with this book is that it also has a lot of natural scientists, who became very famous because of their studies and research in that area.
Humboldt was a scientist who traveled a lot, not only to discover new flora and fauna abroad but also to safeguard the culture and tradition of these countries. I wanted to portray Germany as a country that is open to the outside world.
Vera Auer
: He was also known as a scientist who networked a lot — he wrote over 50,000 letters to other figures around the world, including Thomas Jefferson.
Stephan Auer
: He was also one of the first to discover that actions of man have an influence on the climate and environment, on the forests and woods. So, if you would, he was one of the first environmentalists.
Do you think Korea is doing more in the fight against climate change than before?

Vera Auer
: If you see all those coffee shops, they stopped giving out plastic cups. They've really started to change.
Stephan Auer: I think Korea could do more. Korea is the fifth biggest emitter of carbon dioxide per capita. Germany as well is a big emitter, we have 1 percent of the world's population and emit 2 percent of world emissions — and the German government takes that very seriously and has recently adopted a climate package according to which we will phase out coal by 2038. In 2039 we will have no coal-powered plants in the grid. We will phase out nuclear energy as well, so we will only have renewable energies. I think Korea in my view should do more because we, as industrialized countries, have specific responsibilities.
We spoke of enlightenment, scientists and thinkers of the past. Who are your favorite thinkers?

Stephan Auer
: As a German ambassador, I am, of course, very interested in leaders who have a vision. I am particularly fond of those thinkers who champion or advocate reconciliation, integration and rapprochement between nations, and we've had in Europe some very visionary politicians after the two World Wars. There was the French [Foreign Minister Robert] Schumann and Jean Monnet and on German side was Konrad Adenauer who picked up these ideas for European integration and overcoming the hatred between France and Germany. This was continued by Willy Brandt, who was very much eager to overcome the east and west divide, bridging the ideological societal gap and divide between East and West Germans — making the divide, wall, more permeable through exchanges. His vision of Ostpolitik, trying to promote exchanges and contacts, was very wise, and 30 years later, brought down the wall. Also Helmut Kohl — he had the vision at the time to grab this historic, unique chance of achieving German unification, in a very short window of opportunity. These are for me the big visionaries.
The novel ends with a character, Eugen, going to the United States. Let's talk about the latest in German-U.S. relations. Some critics have argued that the relationship has suffered since the presidency of Donald Trump in the U.S. What are your thoughts?

Stephan Auer
: We see the United States as a champion of the free liberal world order. They created this order after [World War II]. We need them to continue to defend it. I am concerned about a new tendency in the United States to concentrate on itself. This is something I regret a lot because we need American leadership — we will never forget what the Americans helped us build after World War II — they supported and defended us for decades. And it was [U.S. President George] H. W. Bush who really supported German reunification — he was by far the most supportive of reunification at the time. We will never forget that. This is why American-German relations are so important and will continue to be important because we have the same values — this is the basis for a lasting relationship regardless of certain political leaders.
What are some areas that you are focusing on in Germany's relations with Korea?

Stephan Auer
: Korea is an important player worldwide, it is a mature democracy with a highly industrialized economy. I really think it should play an even more important role worldwide as it has responsibilities of protecting the international world order as we all have. I am happy to see that President Moon is now engaging the New Southern Policy to diversify and not only concentrate on four major trading partners. I wish they would also look more to Europe.
Tell us about the dishes prepared today.

Vera Auer
: The starter is from North Rhine-Westphalia, the main course is from Bavaria and the dessert is from the north part, around Hamburg. The starter is quite interesting because it is made of potatoes and Alexander von Humboldt brought the potatoes into Germany from Peru. The starter we especially enjoy around Christmas time in the Rhineland at the Christmas markets because it is heavy and it gets very cold in Germany in the winter, so it is something to warm you up.
Stephan Auer: We used to have 300 federal states in German territory, so this is why our kitchen is very diverse. There are stereotypes about German kitchen that are not doing justice to German cuisine.
Where can we find authentic German food in Korea?

Stephan Auer
: There is a good restaurant run by Daniel Yoo, who was trained in Bavaria. He passed the vocational training program in Germany and has the certificate of being a German butcher.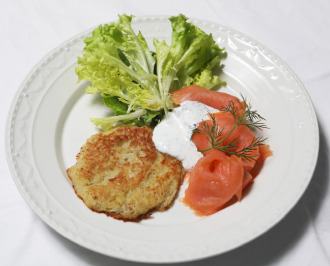 Potato pancakes with smoked salmon
1. Mix together 3 pounds of potatoes, peeled and finely grated, 3 onions, finely chopped, 2 teaspoons of flour and 3 eggs and season with nutmeg, salt and pepper.
2. Heat some oil in a frying pan over high heat.
3. Drop spoonfuls of the mixture into the pan to form small pancakes, about 2.5 inches thick, and fry for 2-3 minutes on each side.
4. Remove and place on paper towels while you cook the rest of the pancakes.
5. Mix 1 cup of sour cream, the juice of a half of a lemon, a handful of finely chopped fresh parsley, chives and dill, and season with salt, pepper and a pinch of sugar.
6. Arrange the pancakes on a plate with slices of smoked salmon, spoon on the sour cream dressing and serve.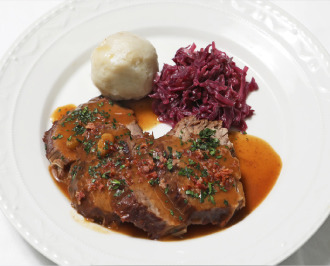 Sauerbraten
1. Bring to a boil 2 cups of red wine, 1.5 cups of red wine vinegar, 1 onion and 1 carrot thinly sliced, 1 bouquet garni and 4 cups of water in a saucepan. Remove from heat.
2. Place 5 pounds of round steak in a deep bowl. Pour the marinade over the beef, cover and refrigerate for 2-3 days, turning the meat at least twice a day.
3. Remove the meat, pat dry. Strain the marinade through a fine sieve and keep the liquid.
4. Brown the meat on all sides in a pan with 2 tablespoons of butter.
5. Heat oven to 325 degrees Fahrenheit. Cook in a pot 2 onions and 1 carrot, sliced, and a half cup of sliced celery. Add the beef and marinade. Bake in oven until beef is very tender, about 2.5 hours.
6. Serve, thinly sliced, with sauce made with the marinade.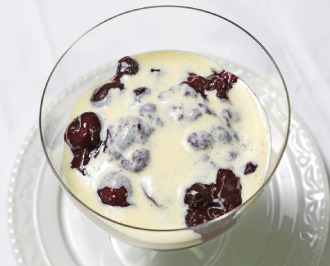 Rote Grutze
1. Mix a half cup of sugar with 6 tablespoons of water in a pot and heat until it turns a light caramel color. Remove from heat and mix in 4 teaspoons of orange juice and 1-2 teaspoons of lemon juice.
2. Mix 2 tablespoons of cornstarch with 2/3 cup of red wine, 2 tablespoons of black currant liquor and 2/3 cup of red port wine. Add to the caramelized sugar. Add 1 cinnamon stick, 1 star anise, seeds from 1 vanilla bean and some strips of orange and lemon peels. Heat mixture over low heat for about 2 minutes. Add 2 tablespoons of orange liquor.
3. Prepare 1/4 pound each of strawberries, red currants, black currants, pitted cherries and raspberries and 1/8 pound of boysenberries. Pour warm wine over and bake at 400 degrees Fahrenheit for 10 minutes. Remove the cinnamon stick, star anise and peels. Allow to cool and serve with cold, fresh cream or ice cream.
BY ESTHER CHUNG [chung.juhee@joongang.co.kr]