[INTO THE HEART OF THE COUNTRY] Falling in love in a fortress by the sea
Culture is the key to understanding a country, and the greatest guides can bring visitors to heritage sites that say the most about a nation and its people.
In our latest public diplomacy series, we asked ambassadors in Seoul to recommend a heritage site in their countries and share their experiences visiting such sites in Korea. The articles will also offer tips about travel in the ambassador's homeland, as well as a recommended list of books and music from the country to read and listen to on the road. –Ed.
"It was the summer of 2016, when I visited Cartagena with a friend," Ana Paula Martinez Garrigos, wife of ambassador of Colombia to Korea recalled recently. "I said to her, 'This is the perfect city to fall in love in.' And the words came true after that, when I met Juan Carlos."
Cartagena is a coastal city located in northern Colombia. Like many cities facing the Caribbean Sea, the sky glows radiantly with beautiful colors during sunset, making it a romantic destination for many. But it is not just another coastal city, says Juan Carlos Caiza Rosero, ambassador of Colombia to Korea.
"You can watch the sun set from the beach, which is very nice, but I recommend going to a restaurant or a cafe on top of the fortress of the city," said Caiza Rosero. "There, you have the sea to one side and the fortress to another side. The city is one of few places on earth where you have a beautifully preserved colonial city and the sea."
Inscribed as a Unesco world heritage site in 1984, Cartagena holds centuries of history within its fortress walls.
The city takes visitors back to the 16th century, when the Spanish occupied the area, a highly desired spot among the European powers exploring ways into "the New World" in Latin America at the time.
"As you walk around the historical part of the city, you will discover houses that have kept its look from the colonial period," said Martinez Garrigos. "And the city comes alive at night, when the cathedrals and churches are lit up and have a golden glow."
Keeping with the Colombian spirits, pockets of the city come alive when the sun goes down.
"If you are into salsa or merengue, I would suggest checking out a place called Havana in the city," said Martinez Garrigos.
The couple recently sat down with the Korea JoongAng Daily to introduce Cartagena and where to visit within the city to best experience its heritage and culture. The following are edited excerpts of the interview, during which they recommended restaurants atop the fortress walls and islands located just a boat ride away from the city, as well as their take on the heritage and culture of Korea that they experienced long before their arrival in Seoul eight months ago.
Q. Colombia is home to nine Unesco heritage sites. How did you come to select Cartagena as the destination to introduce for the series?

A.
Juan Carlos Caiza Rosero: Cartagena is the first site in Colombia to be included on the World Cultural and Natural Heritage List. It is the first port city to be established in Colombia and was the main point of the area that connected it to the rest of the world. As it carries centuries of history since the 16th century, it boasts one of the most complete systems of fortification in the region. Visitors will be able to see the military architecture of the city unlike any other place in the world and witness a well-preserved colonial city.
The Colombian Nobel Prize-winning author, Gabriel Garcia Marquez, was profoundly inspired by this city; two of his greatest books, "Love in the Time of Cholera" and "Of Love and Other Demons" use Cartagena as the perfect [setting] for these passionate love stories.
Ana Paula Martinez Garrigos: [When I met Juan Carlos,] he said he wanted to show me Cartagena. At that point, I had already seen the city once. When I told him this, he said, "Yes, but not with me." So we went, and that's when we fell in love.
Where do you recommend visitors stop by while in the city?
Caiza Rosero: The city can be divided into three neighborhoods. One neighborhood holds the Cathedral of Cartagena, San Pedro Claver Church and the Palace of the Inquisition. In the northeast corner of the city is San Diego, where visitors can find classic spots to take photos with colonial architecture in the background. The third location is Getsemani, also worth visiting. Bocagrande and Castillo Grande, among others, exhibit the contemporary face of Cartagena. We also recommend booking hotels located near the fortress for a beautiful cityscape at night, and also trying out the cafes and restaurants atop the fortress walls.
Martinez Garrigos: If you are in the city for more than a few days, it would be worth visiting the Rosario Islands. There, you will be able to swim and see the luminous plankton. Colombia is home to a wide range of ecosystems and natural habitats. There are over 60 ecosystems in Colombia's five continental regions, namely, the Andean, Caribbean, Pacific, Orinoco and Amazon.
Coffee from Colombia is well known in Korea. What will a visitor from Korea find different about the coffee-drinking culture in Colombia?
Caiza Rosero: I noticed that in Seoul, you can walk into a cafe and find coffee from 40 different countries. In Colombia, you will find coffee from 100 different areas within Colombia. If you're looking for a recommendation, I would suggest trying coffee from Narino.
Martinez Garrigos: Since we are speaking of Unesco heritage sites, six farming areas in Colombia, known as Eje Cafetero, or the "coffee-growing axis," are also inscribed in Unesco as a world heritage site.
This is your eighth month in Korea. Have you had a chance to visit any heritage sites in Korea?
Caiza Rosero: Seoul conserves examples of traditional architecture and traditional life remarkably well. In some pockets of the city that are well-preserved, it feels like you've stepped back in time.
Martinez Garrigos: I visited Korea with my family in 2002 for the World Cup. We visited a lot of places in Korea, one of which was the Changdeok Palace, a Unesco heritage site. I remember that the taxi driver took us on narrow roads that [wound] this way and that, and all of us were very surprised when at the end of these roads was this huge gate to the palace. It was surprising to learn that a palace, as old as 600 years, could be located in the heart of such a busy and bustling city.
What areas in Colombia-Korea relations are you hoping to focus on?
Caiza Rosero: Our relations came to be called a blood brotherhood when Colombia became the only Latin American nation to actively participate in the Korean War as a member of the [United Nations] Forces. These days, Korea has been a leader regarding response to the Covid-19 outbreak, and Colombia is hoping to learn more about Korea's best practices and experiences to help Colombian health care workers.
Additionally, the president of Colombia has put forward a creative-economy project called the Orange Economy in Colombia. With K-pop being so well known around the world, it would be so useful if Colombia could learn about the successful experience of Korea in this area.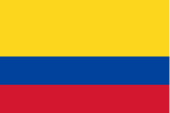 Colombia in brief

Capital city
: Bogota
Area
: 1.14 million square kilometers (11 times the size of South Korea)
Population
: 49 million (2020)
Main language
: Spanish
Ethnic groups
: Mestizo, Afro-Colombian, Amerindian and unspecified
Religions
: Roman Catholic, Protestant and unspecified
National day
: July 20, Independence Day
Government type
: Presidential republic
Currency
: Colombian peso
Travel tips

Best time to visit
: Between the end of November and the end of April, if you want to avoid the rainy season.
Recommended flight routes from Korea
: Fly into the United States, Mexico, Canada, Turkey or a European country and find a transfer flight to Cartagena (Rafael Nunez International Airport). Another option is to fly into Bogota, capital city of Colombia, from where a one-hour flight takes you to Cartagena.
What to tell the taxi driver at the airport
: Tell them you want to get to "Ciudad Amurallada," which means the "Walled City." It will take about 20 minutes. Verify taxi prices before your trip.
Recommended modes of transportation
: Walking for distances within the fortress walls, taxi for longer distances.
Books to read before the trip
: "Love in the Time of Cholera" and "Of Love and Other Demons" by Gabriel Garcia Marquez; and "Delirium" by Laura Restrepo.
Movies to watch
: "Colombia Magia Salvaje" (2015), a documentary about Colombia's biodiversity.
Music to listen to
: Songs by singer Monsieur Perine and band Bomba Estereo; and "Tusa" by singers Karol G and Nicki Minaj.
Try this
: When ordering coffee in Colombia, try "tintico," a cup of coffee between the size of an espresso shot and an Americano.
Colombia-Korea relations

Ties established
: March 10, 1962
Trade volume
: $1.86 billion (2020)
Colombian exports to Korea
: Mineral fuel, coffee, tea, copper and flowers
Korean exports to Colombia
: Electronic equipment, auto parts, plastic, boilers and steel
Korean expats
: 870 (2020)
Last Colombian high-level visit to Korea
: Marta Lucia Ramirez, vice president of Colombia (December 2019)
Last Korean high-level visit to Colombia
: Park Won-soon, mayor of Seoul (July 2019)
Ambassador Juan Carlos Caiza Rosero
Ambassador Juan Carlos Caiza Rosero presented his credentials as Colombian ambassador to Korea in August 2019. He was previously vice minister of transportation in Colombia and director-general of the Institute of Planning and Promotion of Energetic Solutions in the Non Interconnected Zones of the Ministry of Energy and Mines. The ambassador was also an advisor to former presidents of Colombia, Juan Manuel Santos Calderon and Alvaro Uribe Velez, and was a consultant for the UN Development Programme, MSI Foundation and is currently a consultant to the National Planning Department in Bogota. During his free time, the ambassador likes to jog, play chess and read Latin American literature.
Ana Paula Martinez Garrigos
Ana Paula Martinez Garrigos is head of scientific and technical cooperation at the Embassy of Mexico in Korea and wife of Ambassador Juan Carlos Caiza Rosero. She was previously deputy press attache at the Embassy of Mexico in the United States and consul at the Embassy of Mexico in Nicaragua. Her personal interests include poetry composition, and she is currently preparing to run the 10K at the Seoul Marathon.
BY ESTHER CHUNG [chung.juhee@joongang.co.kr]