Oohyo escapes the crowds in her second album
Indie singer Oohyo's latest album "Far From the Madding City" takes the listeners away from the hustle and bustle of the city to an open field where dandelions grow and rabbits run around freely. Released on April 8, the singer's new 12-track album is her second full-length work over three years, since "Adventure" (2015), and her songs are as stirring as ever.
Oohyo made her debut in 2014 with her first EP, "Girl Sense." Subtler indie sounds often struggle to compete with the ecstasy of K-pop, but Oohyo made a name for herself solely with her unique voice and mysterious melodies. Tracks like "Pizza" (2017), "Dandelion" (2017) and "Papercut" (2018) may not have charted highly, but her fans can't stop listening to her tracks.
The two lead tracks from "Madding City" - "Tennis" and "Toki Tall" - stir up a mixture of emotions, from the urge to run away to the will to stay and fight.
"I think it would be really hard for someone to figure out who I exactly am or the spectrum of my music without listening to all the songs that I've made," said Oohyo. "It's because I still haven't figured out what kind of music I'd like to make. Or, to be exact, I know what I want to make, but I lack the skills and patience to bring them to life."
Oohyo sat down with the Korea JoongAng Daily for an interview on her latest album and her musical world. The following are edited excerpts.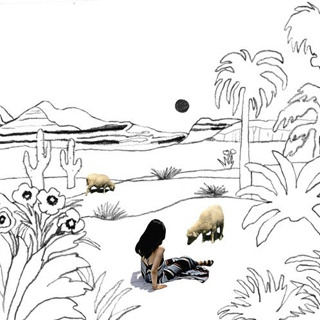 Q. This is your first full-length album in three years and six months. What have you been up to?

A.
I graduated from university, and since then I've been focused on preparing for this album for about year and a half. Now it's finally out. I took a sigh of relief. It feels somewhat cathartic every time I have new music come out - to think that now more people will know who I am and to know that I have created something that hasn't existed before.
How do you think your full-length album is different from the other singles and EPs that you've released?
It allowed me to express what I've recorded of my life, or my inner thoughts, during a long period of time. Being able to show all of that made me feel more confident, and allows people to get to know me more. I think the [work process] felt nicer than it did with other projects.
Why did you use the phrase 'Madding City?'
I feel so chased by city life. The images that you instantly get when you think about the city life is that it's very hurried, always in a rush and selfish. For people like me, who are really slow and laid-back, the city tends to be very unforgiving and cold. It was actually taken from Thomas Hardy's book titled 'Far from the Madding Crowd' (1874). The word 'madding' really touched me.
I would actually like to write songs about country life in the future, something that has very natural sounds - but they're just in my head for now. The music made in [big] cities tends to be as tiring as city life. It wears you down and gets you excited instead of calming you down.
You are well-known as a synth-pop singer, which is a very urban genre. How does that fit in with your urge to get away from the city?
As a person, I am affected by my surroundings - I do follow the musical trend and make urban sounds, but I think my music keeps a certain touch of comforting emotions, a touch of cheerfulness to it.
Frankly, I used to think that city-like sounds were the trendiest and the kinds of songs that go well in clubs. I thought songs made with high-tech gadgets were the best. I got fed up of that, though. And even though the tracks on this album are still much like my usual synth-pop music, I'm willing to try a new style in the future. I'll try using more acoustic sounds, with lyrics to let people feel who I really am inside.
Which songs off this EP do you think best show who you are?
I like the songs 'Camera,' 'Crying Reggae' and 'Brave,' especially 'Crying Reggae.' They all have a story line [within the lyrics] that express my inner thoughts, but 'Crying Reggae' shows my very laid-back self. I get really powerless sometimes, but I always try to get back up. I'm maturing in the process, and I try to remain cheerful [even during times of hardship]. [The songs] talk about heavy stories, but at the same time feel very light - just like me.
You are known for writing your own songs. What kind of situations inspire you the most?
I get inspired by new things, when there are new things around me that get me going and thinking. When I was in London [for university], it was the first time for me to be alone [without my family]. It gave me a lot of time to think, and that allowed me to write a lot of new songs. Sometimes, I start writing a song if there's a certain kind of music that I'd like to listen to but can't find - it's like a substitute.
You have lived in different countries around the world - Britain, the United States and Spain. Did that affect you in any way?
It did, in a way that I have never known how it feels to 'settle down.' I've never been in the same place for a long time and I don't have any friends that live next door. I did and still have the urge to fit in. That makes me think about what other people would want to hear in my music, and try to make that into the song.
But at the end of the day, I consider myself a wanderer. I don't want to be bound down somewhere forever.
You held your first solo concert last year on Feb. 10, titled 'Oohyo's Ski Camp.' Why was it called that, and what would you like to name your next concert?
I wanted to come up with a cute name associated with the idea of winter. And I thought I would be really nervous and act awkward at my first concert, bumping into everything and making mistakes. That's why I called it the 'Ski Camp.'
I actually don't have any plans yet for a second concert. But if I do get to do it, I'd like to call it 'Oohyo's Nature Expedition.'
BY YOON SO-YEON [yoon.soyeon@joongang.co.kr]